HD Ledshine grows internationally
22 August 2019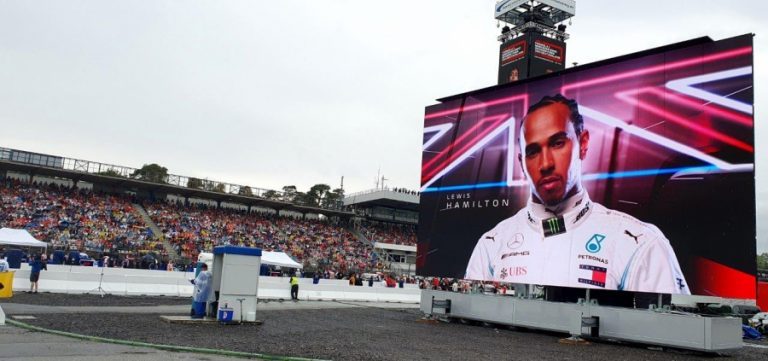 From Formula 1 in Germany to the Champs Elysées in Paris. HD Ledshine can already add some international references of stature (literally and figuratively) to their achievements. After the successful technical support of the Pope's visit to Romania, the company has not been idle at all! The team looks ahead to an international future.
The summer of HD Ledshine was already well underway. "In June, before the Pope's visit, we still had a total of 300m² of mobile LED in Romania and over the past few weeks we have been supporting projects mainly in Paris and Germany. let Julie De Schrijver, Marketing & Project manager know. The company is growing internationally and is putting extra effort into this. "We work with various partners and are extra committed to international marketing, with success!
HD Ledshine, based in Denderleeuw, has two uniquely large companies on hand. In mid-2018 the first example of the world's largest mobile LED screen was presented. 144m² large, 16m wide at 9m high, 4K resolution and built within the hour. In 2019, a second identical model was immediately added. "Will there be a third one? I'm not going to pronounce on that yet!" laughs Julie De Schrijver ", but so far we can certainly be proud on the course of the first two. And, of course, of all the other screens in our range!
At the end of June, "The Black Pearl" and "The Black Diamond" (that's how the two world records are called) shone at the commemoration event of Karl Lagerfeld in the Grand Palais in Paris. At the beginning of July, the so-called "most beautiful open-air cinema" was organized on the Champs Elysées in Paris and here, too, HD Ledshine's professionalism was counted on. The smaller mobile screens of 30m² were meanwhile spread over Germany and also at the end of July the screens shone at the Formula 1 GP of Germany in Hockenheim.
"For the European Football Championship, we are already receiving several requests – again mainly from abroad. says Max Verbruggen, project managing director. "So it promises to be very interesting next summer too! For us it doesn't really matter where or how big the event is, every customer is important and every project gets 100% attention. What we do notice is that the mobile screens are becoming more and more interesting for the customer and therefore also more and more popular. We will therefore continue to invest in this.
"There are still nice developments on the program!" says Julie De Schrijver. More information will undoubtedly follow soon.
We would love to hear from you!
Do you have a crazy idea for a project? A question? Want to grab a coffee? Or do you just want a quick quotation (we get it) – Contact us now!