HD Ledshine stunning on Prolight + Sound
25 April 2019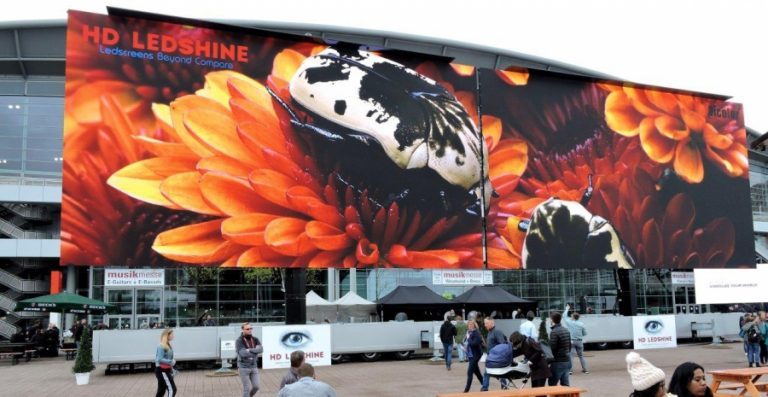 At the beginning of this month the annual Prolight + Sound trade fair took place in Frankfurt. HD Ledshine launched the second copy of 'World's largest mobile screen' there and stunned visitors by setting this world record at just a few centimetres next to the first copy that was launched just 1 year ago at exactly the same location.
Anyone who visited Prolight + Sound in 2018 couldn't have missed it. The Black Pearl, a mobile screen of no less than 144m² in size, 16m wide and 9m high, in total 13m high and with 4K resolution shone on the outdoor area of the fair. Barely a year later, HD Ledshine once again outdone itself by presenting a second identical screen, The Black Diamond, side by side.
288m² screen, 32m wide by 9m high, good for 2 times 4K resolution. But what surprises most is the set-up time: "What amazes most people, besides the resolution, is the fantastic structure" says Julie De Schrijver, project manager. "The LED screen market is growing and will continue to grow. It's a matter of differentiating and we do that in terms of efficiency and quality". These screens can certainly be called efficient. They are constructed entirely hydraulically, which means that less crew and time are needed – and therefore less costs. After stabilization, these screens are assembled within the hour by only 2 operators. You can see exactly how this works on this video: https://youtu.be/lwrrHa3bGoM.
"In addition to efficiency, quality has always been important to us. By opting for a high resolution and small pixel pitch, we are ready for the 4K content – even though it is still scarce at the moment". complements Julie. "This allows you to be very close to the screen and still have a perfect image."
The screens were designed in such a way that they can be placed next to a stage – or next to each other – while the fully built-in direction always remains on the backstage side. In this way, the tractors that deliver the screen can simply drive off again. Furthermore, 'The Black Pearl' and 'The Black Diamond' are completely identical.
With this new acquisition, HD Ledshine now has a considerable fleet of mobile screens in addition to its modular stock. Are you interested in these two pearls or rather in the smaller formats? Contact: info@hdledshine.com or call +32 53 64 54 14.
We would love to hear from you!
Do you have a crazy idea for a project? A question? Want to grab a coffee? Or do you just want a quick quotation (we get it) – Contact us now!