Stranger Things Season 4 launch in Milan chooses for HD Ledshine quality.
28 July 2022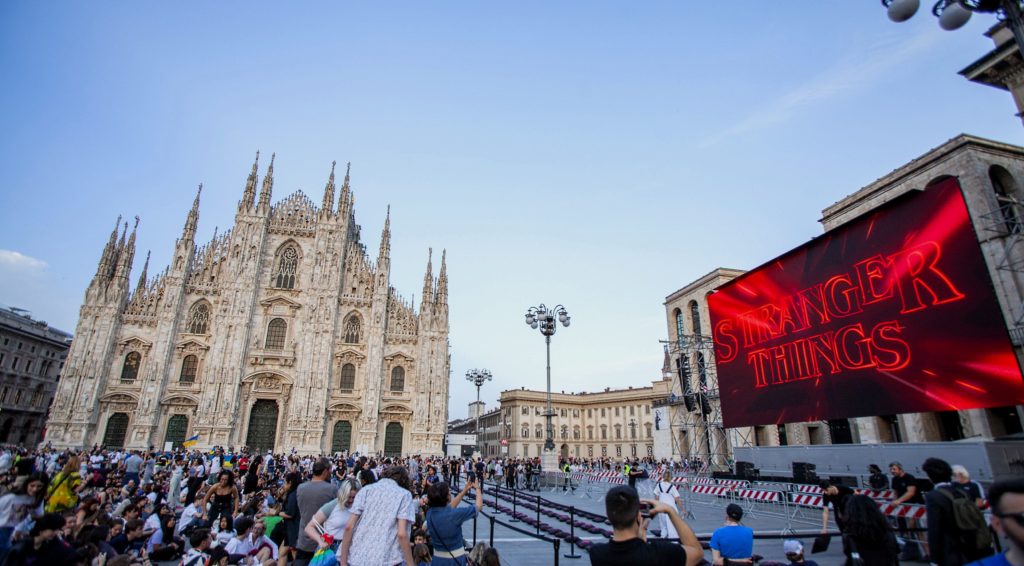 At the end of May 2022, the new season of the Netflix series Stranger Things was launched in all grandeur at several top locations in Europe. The organization in Milan invariably chose the quality and efficiency of HD Ledshine to allow more than seven thousand spectators to experience an exclusive avant-premiere of the successful Netflix series in the famous Piazza del Duomo. The Black Diamond, the world's largest mobile LED screen, was deployed to launch the first episode in 4K picture quality.
Seven thousand fans of 'Stranger Things', gathered in the Piazza del Duomo in Milan for the avant-premiere of the very first episode of the fourth season. The event was organized by the Italian agency Dude on behalf of Netflix – HD Ledshine was counted on for the display of that long-awaited episode. "The quality, format and efficiency convinced our client" let Max Verbruggen of HD Ledshine know.
The Black Diamond, the world's largest mobile LED screen of no less than 144m² in 4K picture quality, just like its twin The Black Pearl, shines at various international events. Thanks to the short assembly and disassembly time, it is a unique unit that offers a solution for many events: "At busy locations such as the Champs-Elysées or the Piazza del Duomo, there is often not the possibility or time to build a modular setup. With our mobile setups, we need between 60 and 120 minutes – depending on the location – to set up 144m² of LED and this by just one technical person." – Max, HD Ledshine.
HD Ledshine is the proud sole provider of these world records and continues to believe in the power of mobile LED screens, "Our greatest assets are not only that efficiency that is inextricably linked to all mobile screens, but also trust, experience and personal approach."
HD Ledshine offers a wide range of Mobile LED Screens as well as modular solutions or fixed installations – "With over 40 years of experience in technical support of events and having specialized in LED Screens for over 10 years, we always offer the most suitable solution for each project and for each customer." Adds Julie De Schrijver, General Manager at HD Ledshine.
Check out Stranger Things Season 4 on Netflix.com
We would love to hear from you!
Do you have a crazy idea for a project? A question? Want to grab a coffee? Or do you just want a quick quotation (we get it) – Contact us now!