The Black Pearl at Marseille
14 July 2018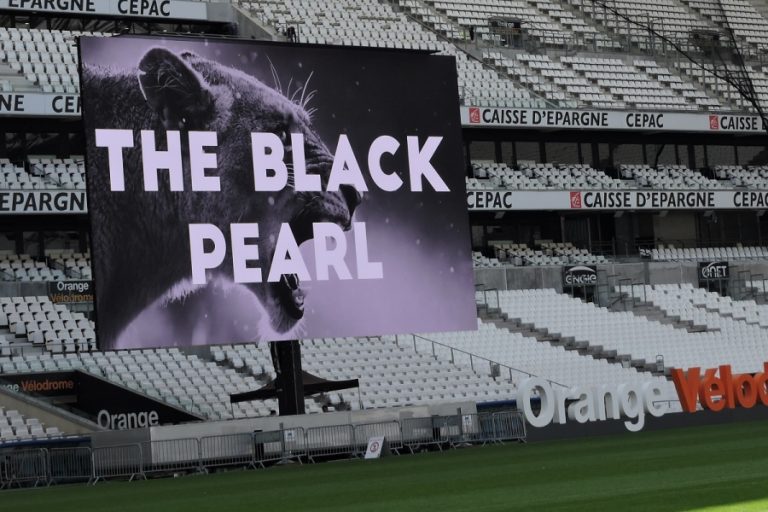 The Black Pearl, the largest mobile LEDscreen in the world, presented and owned by HD Ledshine, amazed everyone earlier this month at the Stade Vélodrome in Marseille. No fewer than 22,500 OM fans followed the Europa League final live on this Belgian world record. The company looks back proudly on this successful case.
The Stade Orange Vélodrome Marseille was the ideal setting for the baptism of 'The Black Pearl'. The screen is no less than 144m² and also achieves a 4K resolution. Thanks to the fast installation and dismantling times, a perfect solution for huge events like this one.
"This was an ideal example to prove the efficiency of our mobile screens," says Tony Winter, CEO. "The grass in the Vélodrome is of enormous importance, so you can only build up a few hours before the event and immediately disappear after the event." No problem for 'The Black Pearl', which also weighs 33.5 tons, it turns out: " It does not become more efficient than this "adds Max Verbruggen of HD Ledshine. "Our mobile units all have a build-up time between 30 and 90 minutes, something we have really strived for and it is now paying off."
During the semi-finals, a mobile screen of 100m² was already installed at the stage, but for the final the city of Marseille wanted to go one step further. That's how they ended up with HD Ledshine: "We currently have the only one in the world of this size. We continue to strongly believe in our mobile solutions, so further investments are already on the agenda ".
We would love to hear from you!
Do you have a crazy idea for a project? A question? Want to grab a coffee? Or do you just want a quick quotation (we get it) – Contact us now!