The Black Pearl at the Eiffel Tower
15 August 2018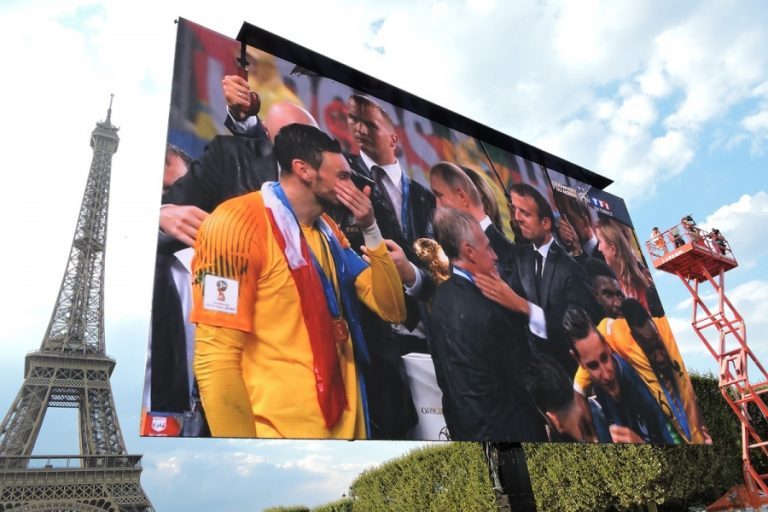 The World Cup period was a big success for HD Ledshine. The icing on the cake was the moment when the largest mobile screen in the world, 'The Black Pearl', immediately went to Paris for the Worldcup final after the broadcasting of the consolation final in Antwerp.
The World Championship is for many companies in the event sector a very busy period, this was also the case for HD Ledshine: "During this World Championship we always provided 12 different locations with a high quality screen," says CEO Tony Winter proudly. "Our mobile screens were very popular and did a great job! We look back with pride. " The largest one in the world, called The Black Pearl, which also achieved 4K quality, amazed people from Antwerp to Paris. After Nomad Events, organizer of the largest fanvillage in the country, decided to double there Antwerp fanvillage in size, they ended up contacting HD Ledshine. The Black Pearl proved to be the perfect solution and was therefore used to receive the extra 15,000 supporters.
When it was certain that the Belgians would shine in the consolation final against England, the requests from France came smoothly. "Immediately after the consolation, we had to do everything in our power to get our screens on time in France for the final. Our Black Pearl could also count on great interest and was therefore deployed at a beautiful location. Not easy in such a short time, but thanks to our team everything went flawlessly, "says Tony Winter. 125,000 French supporters were able to view the largest mobile screen in the world, Belgian-made and in 4K image quality with the majestic Eiffel Tower in the background. Thanks to the flexible design, the screen perfectly integrated into this historic location. "A real wow moment for the entire team! The icing on the cake! "Says Max Verbruggen, the project manager at the company.
We would love to hear from you!
Do you have a crazy idea for a project? A question? Want to grab a coffee? Or do you just want a quick quotation (we get it) – Contact us now!