HD Ledshine and Magnimage official partners!
10 February 2018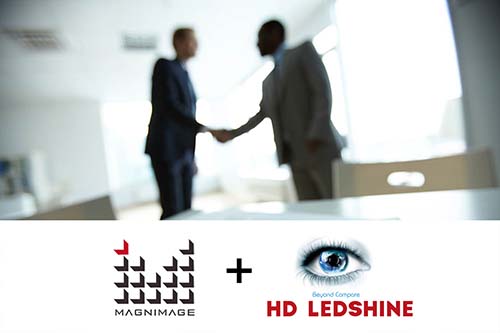 The high-tech company Magnimage is the supplier for countless large companies with professional control equipment for large video screens. Magnimage recently decided to set up an official support and distribution center in Belgium, they chose the Belgian company HD Ledshine, situated in Denderleeuw, specialized in LED walls and video applications.
HD Ledshine is mostly known due to their large and high quality mega screens, and the fact that they have always used Magnimage controllers since the start of the company. From now on they will also form a contact point and training center for other companies: "We will be a contact point for European customers and will be responsible for distribution and support of Magnimage products. It is an extension of our activities, which we should be proud of. "says Max Verbruggen, project manager at HD Ledshine.
But that's not all. There are also other major changes on the HD Ledshine agenda. The company is currently working on the largest and best mobile screen in the world, a project that will be presented in ISE Amsterdam in February 2018. In addition, the company recently hired 2 new forces and informed them that there are many large projects to come.
For information, demonstrations or questions about Magnimage products, you can now go to the headquarters in Denderleeuw.
We would love to hear from you!
Do you have a crazy idea for a project? A question? Want to grab a coffee? Or do you just want a quick quotation (we get it) – Contact us now!