ISE 2020 welcomes with HD LEDSHINE
26 January 2020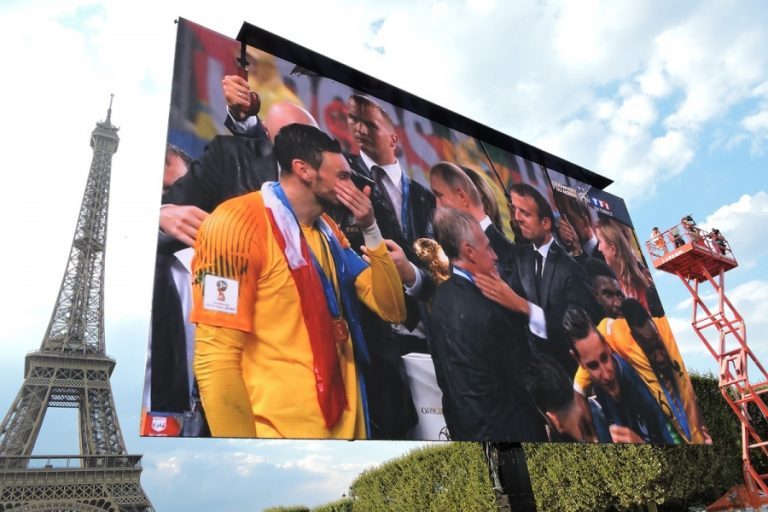 "World's biggest pro AV show" – ISE 2020, will welcome visitors every day with "World's biggest mobile screen" from HD Ledshine. 144m² 4K image quality, built up in 1 hour by 1 operator, will shine at the main entrance of the world's biggest pro show.
From 11 to 14 February, visitors from all over the world will come to RAI Amsterdam for Integrated Systems Europe 2020. The exhibition will present the very latest developments in the AV industry, so an appropriate welcome is certainly not lacking here. The world's largest mobile LED screen (16m x 9m) developed by HD Ledshine, is the absolute top in its sector both in terms of size and quality and will shine at the main entrance to properly welcome visitors in 4K.
"In 2018, we launched the first copy of the world's largest mobile LED screen, 144m² in size, perfect 16:9 ratio, 4K image resolution and built up to 1 hour by just 1 operator. We appropriately called the technological gem 'The Black Pearl'," says Julie De Schrijver, project manager at HD Ledshine. "In 2019, the second copy immediately followed, implementing even more innovative features – called 'The Black Diamond'. Both screens are now 100% identical and one of them, The Black Diamond, will be presented at the main entrance C of ISE 2020.
In addition, every evening from 17:00 on the Elicium (Hall 13) with projection mapping, a visual spectacle will be given by RAI and ISE in collaboration with partners. The Black Diamond will be rotated hydraulically in the direction of Hall 13 and live images of the show will be displayed on the screen.
Visitors to the fair can find more information about the LED screen, its operation, development or events at the base of The Black Diamond at main entrance C. "It's hard to miss it! let Julie know. Inside Hall 12 there is also the opportunity to get extra info: "I will be present at one of Dicolor's stands myself. Since last month, HD Ledshine is the exclusive Belgian distributor of Dicolor LED tiles, so in addition to information about our mobile innovations, you can also contact us for information about LED in general".
In mid-December, the company announced that they are the exclusive distributor of Magnimage video equipment. For more information about ISE 2020, the world's largest mobile screen, other screens, LED tiles in general or related video equipment, please visit: info@hdledshine.com or +32 53 64 54 14.
We would love to hear from you!
Do you have a crazy idea for a project? A question? Want to grab a coffee? Or do you just want a quick quotation (we get it) – Contact us now!