Why mobile LED screens are the future
8 May 2018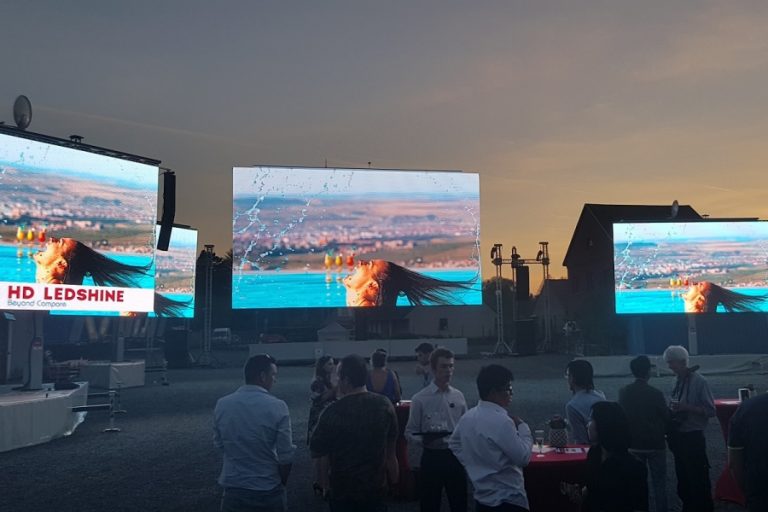 If you are still looking for an LED screen this summer, you will have to be there soon. Especially the latest mobile screens are very popular at the moment. HD Ledshine specializes in high definition LED and is therefore strongly committed to this mobile market. CEO Tony Winter explains why.
"Mobile LED screens are the future." That's what it says at HD Ledshine. The company has been specialising in LED since 2012 and has mainly focused on mobile trailers since this year. The range has been expanded on the one hand with 6 identical mobile trailers of 28m² that can be set up as well as 24m² and on the other hand with "The Black Pearl", the largest example in the world that also achieves 4K resolution. "For the World Cup period we are in any case completely sold out" says Tony Winter. "Towards the future there will certainly be additional investments to come".
Tony founded Globe Show Center in 1979, specializing in the technical all-in support of large and exclusive international shows and thus has miles of knowledge and experience in the sector.
Efficiency
"Mobile screens make the most of modular constructions thanks to their efficiency. Our mobile screens all have a set up or dismantling time that only takes between 1 and 2 hours, moreover with 1 trained technician you have more than enough to get the screen fully working. Highly efficient, enormously flexible and time-saving compared to modular screens that are assembled on site with a complete team.
Design
"You have several options when working with mobile LED. Traditionally you have the so-called container trailers, where there is a truck underneath the screen. We have very deliberately chosen not to do this. Uniformity and design are two of our basic values, which is why we only produce trailers with a flat screen design. Not a truck, but a perfectly finished base that does not disturb the view. The high resolutions that our screens achieve make that experience complete. This is something you cannot compare with modular screens, where you are always dependent on a separate structure: trusses, racks, stages,…".
Price
"Thanks to its efficiency, the overall rental price of a mobile screen is lower than that of modular constructions of the same size. On the one hand, thanks to the shorter assembly and dismantling time, on the other hand, thanks to the lower personnel costs. Both for the customer and for us, it is therefore enormously cost-efficient".
Interested?
Anyone interested in these latest mobile trailers, equipped with the latest technologies, can always contact HD Ledshine. You can also contact them for modular screens. More info via: www.hdledshine.com, mail: info@hdledshine.com or phone 053/64.54.15. www.hdledshine.com
We would love to hear from you!
Do you have a crazy idea for a project? A question? Want to grab a coffee? Or do you just want a quick quotation (we get it) – Contact us now!